Welcome to Nursery!
Mrs Solomon, Mrs Cookson & Mrs Brotherton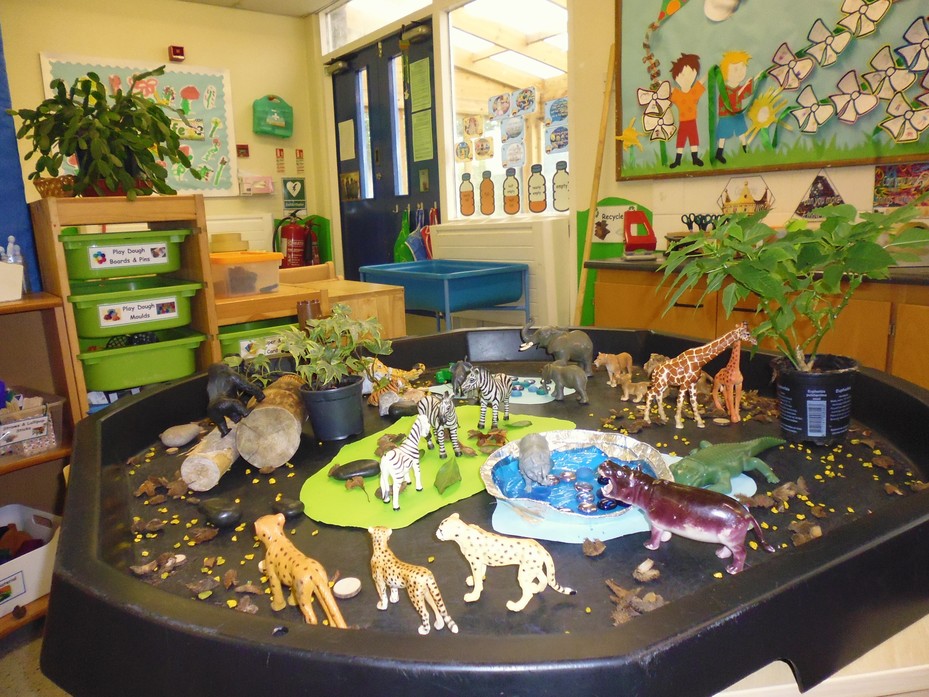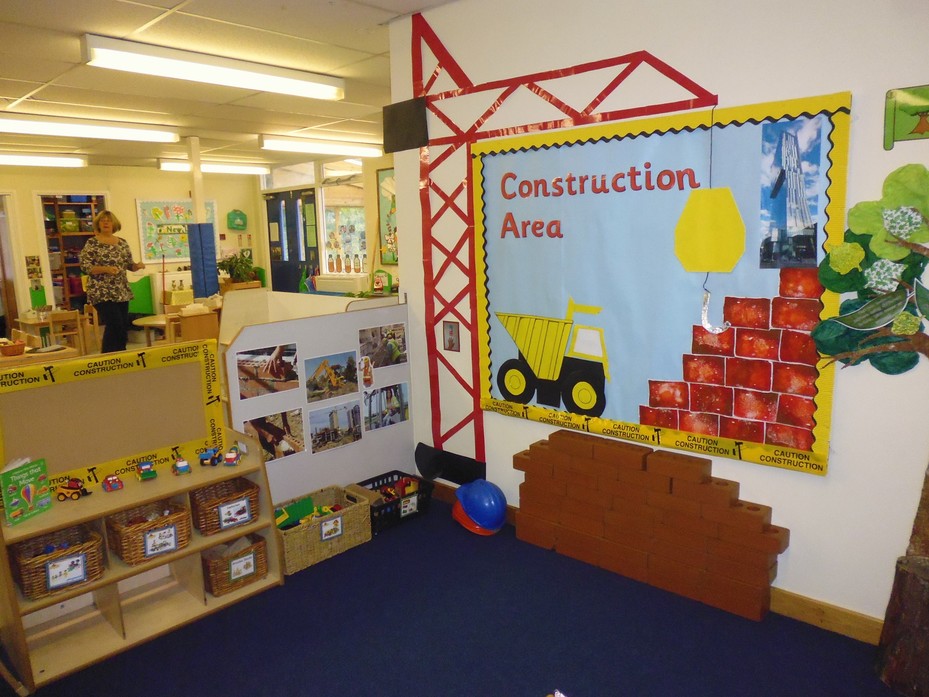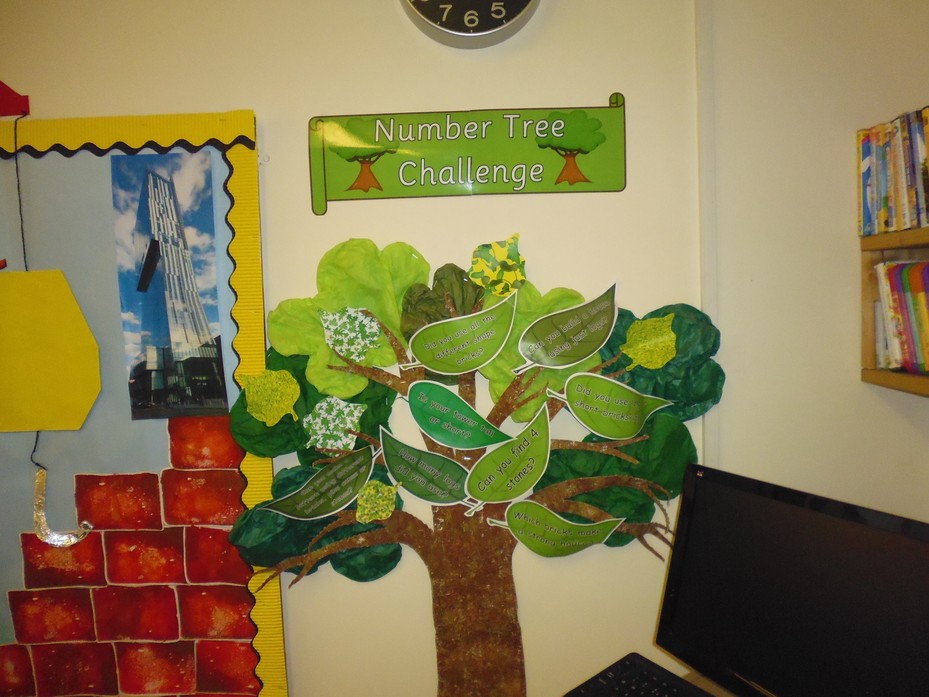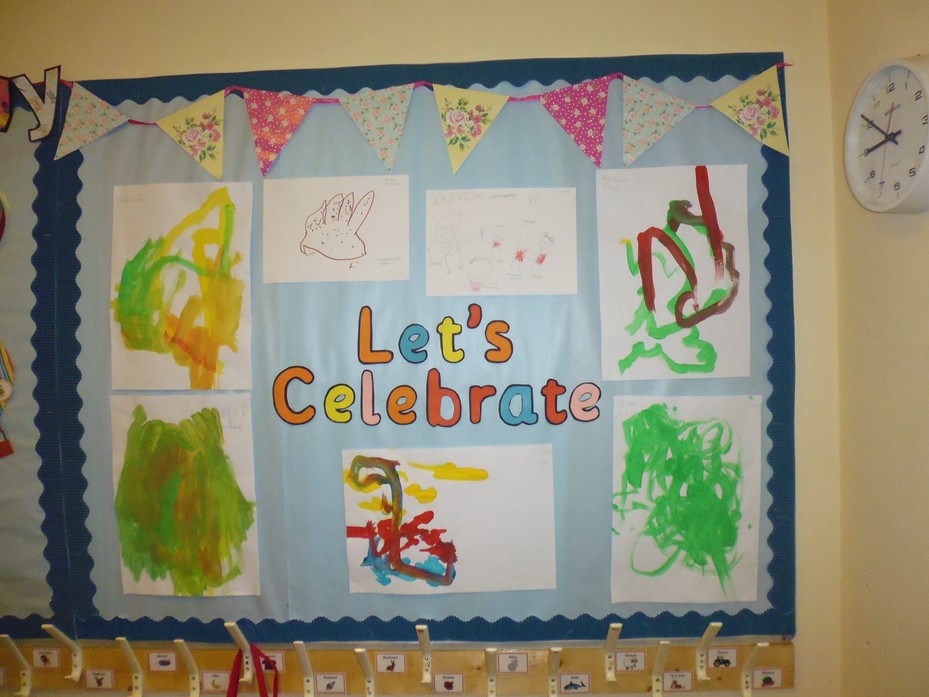 World Book Day 2018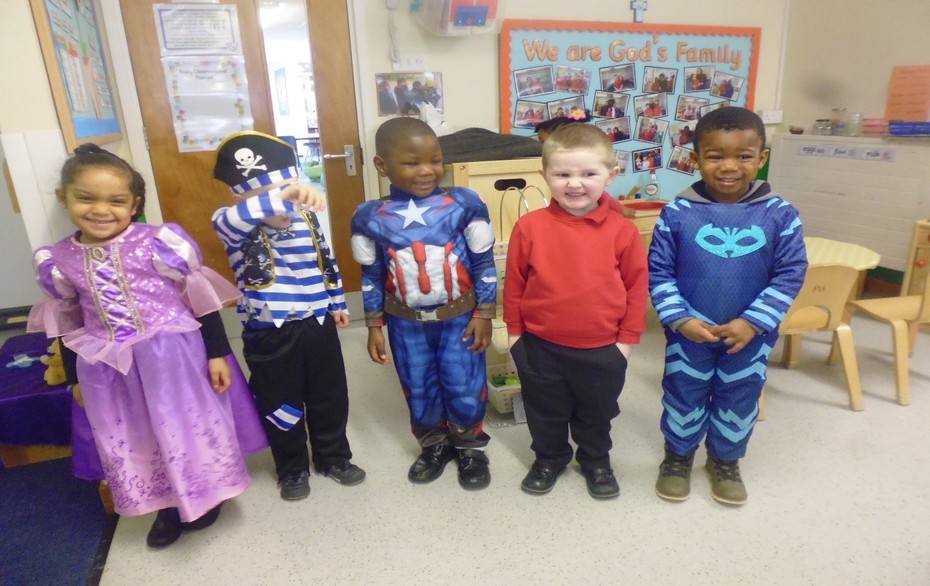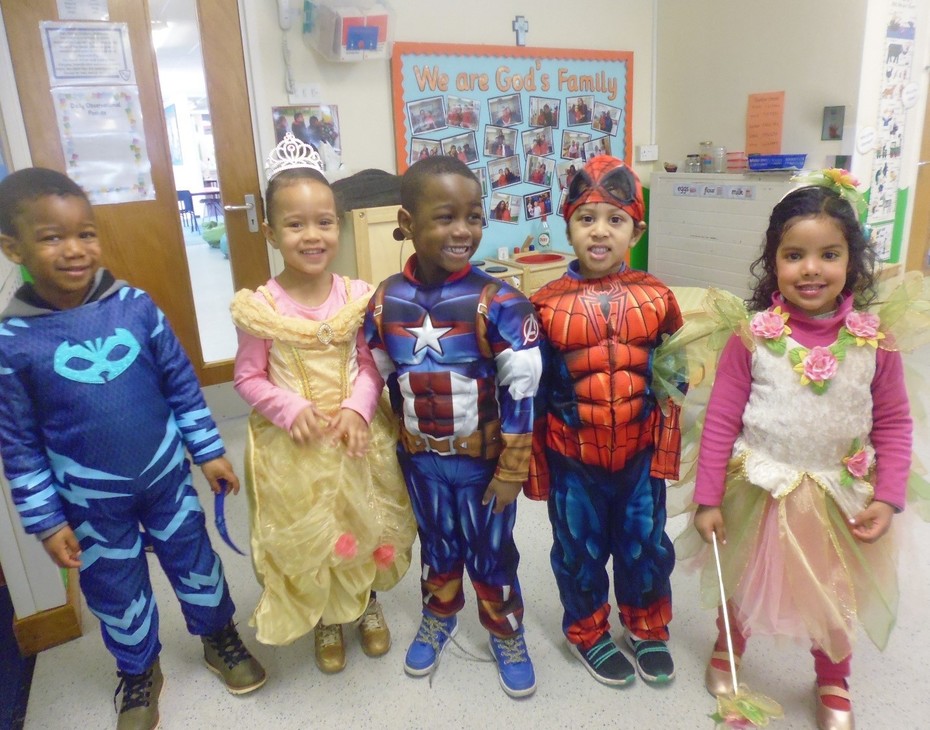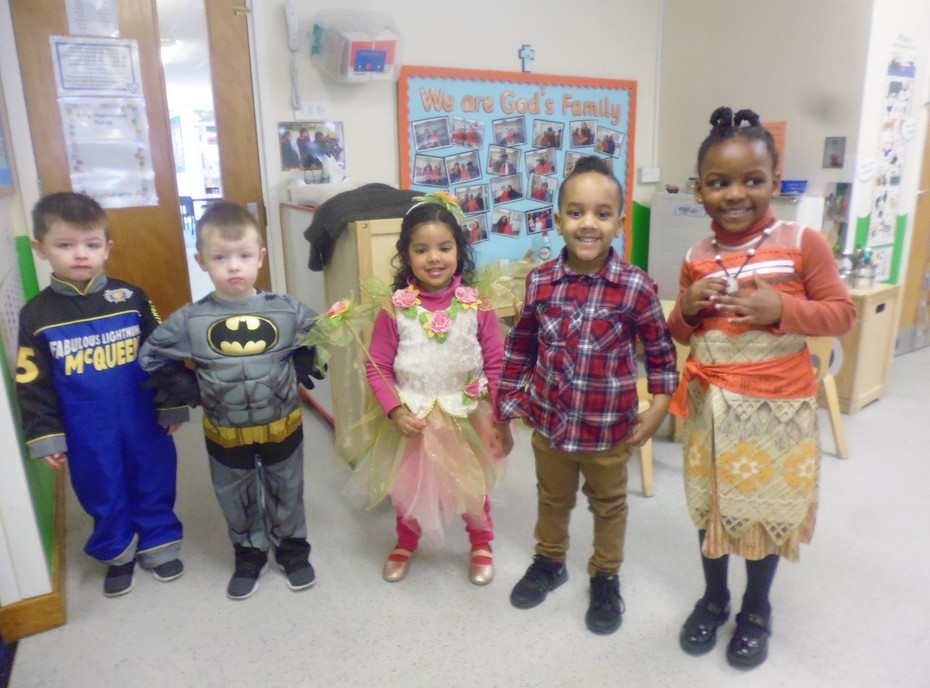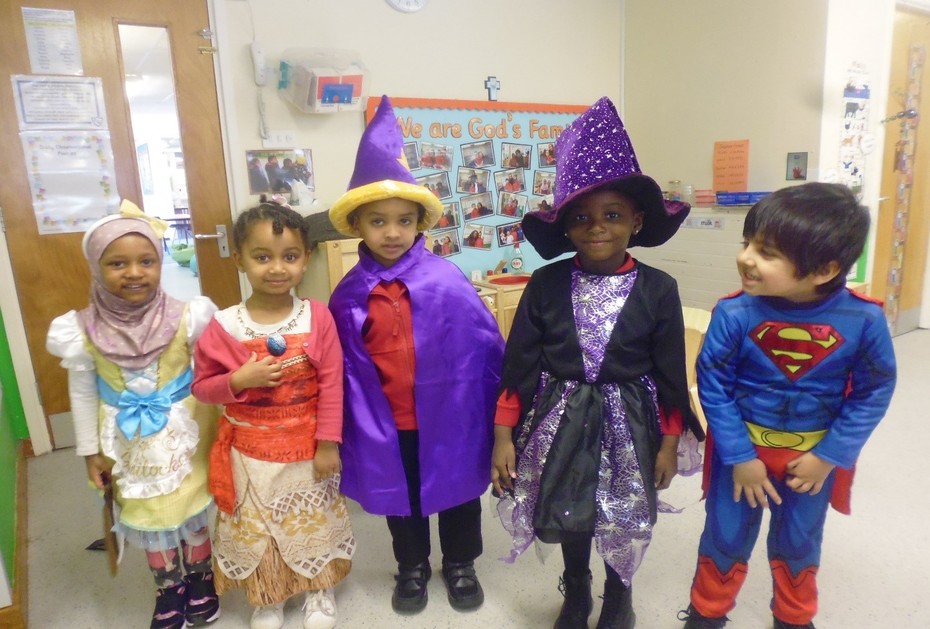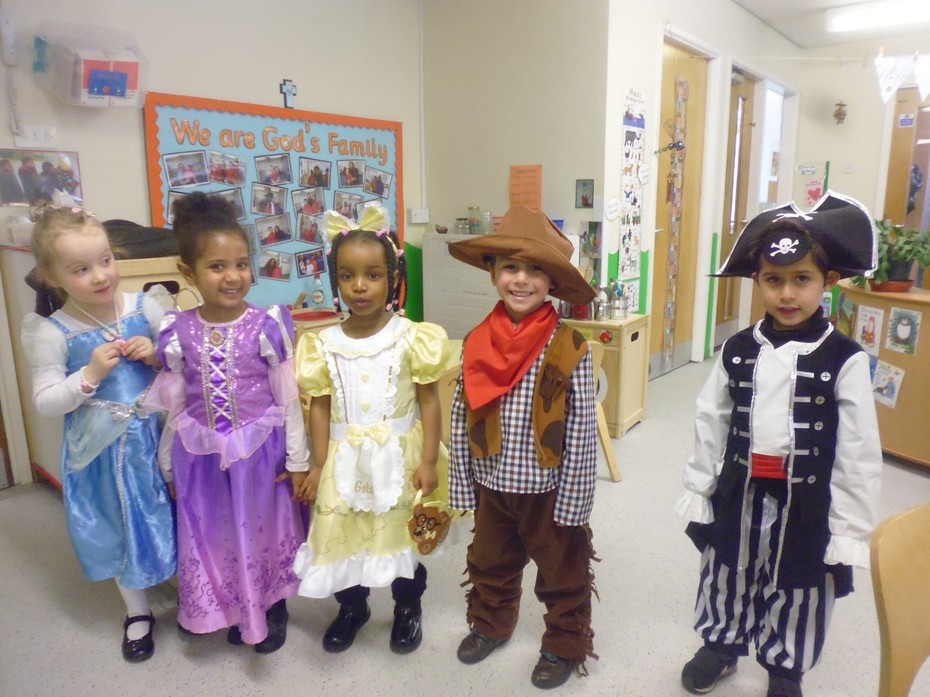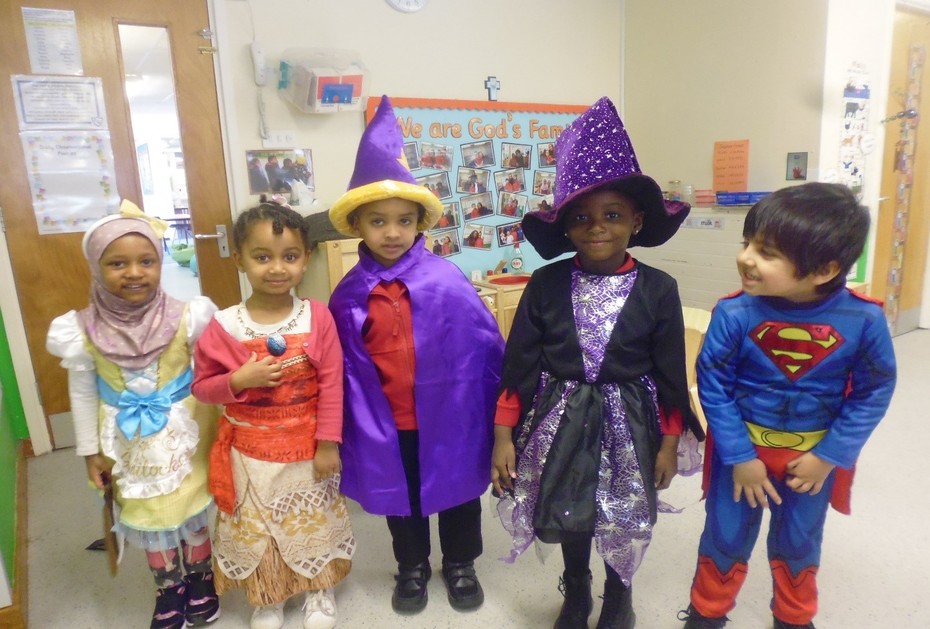 Dear Parents,
This half term our class topic is Winter. Learning in the Early Years is cross-curricular therefore we will continue to teach across the seven areas of learning as we cover this topic.
Religious Education
As part of the Catholic Religious Education series, 'The Way, the Truth and the Life' this term we will be focusing on 'Getting to know Jesus'. We will also be learning new prayers such as 'Our Father' and 'Hail Mary'.
PRIME AREAS
Communication and Language
This half Term we will be sharing a wide variety of winter stories and rhymes. The activities and learning experiences offered will be focussed around some of the following stories and nursery rhymes: 'The Gruffalo's Child', 'Hibernating Hedgehog', 'The Mitten', 'Little Masha and the Bear' and 'The Snow Lambs'. Winter poems and rhymes such 'Jack Frost', 'Ten white Snowmen' and many more. We will be encouraging the children to join in and expect them to listen with an increasing ability to recall the story. By repeating stories over a week we are able to work on sequencing pictures helping children to begin to understand how a story is structured. We will also be looking at non-fiction books about winter.
Personal, Social and Emotional Development
Through our stories we will be looking at different characters and the part they have in stories. This will enable us to discuss emotions created by the stories and how we could deal with similar situations and emotions. Through circle time activities we will be encouraging children to talk about how they feel and begin to explain why. We will be also be looking at how we can help nature and animals to survive the cold weather.
Physical Development
This half term we will be teaching Write Dance and Dough Disco which are activities designed to help children with their writing and these will be linked to our topic. They provide the fine and gross motor skills children need as they begin to write. We will also continue to have a ballet session with Miss Rachel and a multi-skills lesson with Coach Elliot from Manchester City Football Club every week.
We will continue to encourage children to become increasingly independent in their self-care, taking their jumpers and coats on and off and taking themselves to the toilet. It is very important that all the children have their name in all their school clothing such as jumpers, cardigans, hats, gloves and coats as it is very difficult to match clothing to children if they are unnamed.
SPECIFIC AREAS
Literacy
We will be singing rhymes and songs daily to support the children to join in with repeated phrases and to anticipate key events and phrases in rhymes and stories. We will continue with phase one in phonics and will also be learning the letter sounds in children's names. Every week we will be learning a new letter sound, letter recognition and formation.
We are starting our daily reading in small groups, supporting the children to hold the books and to turn the pages correctly. We will be encouraging children to talk about the pictures in the books and show interest in the print in books and their environment.
Words to learn this half term: weather, winter, cold, snow, hail stones, freezing, shivering, frost, icy, fog, melting and hibernating.
Maths
We will be counting to 10 and 20, ordering numbers to 10 and recognising numbers to 10. We will also be focusing on shapes and patterns around us. We will be creating patterns using natural objects in the playground.
Understanding the World
Much of what we learn this half term will be outside as we look at how the world changes as we move through winter. We will be learning about the weather, how we need to keep warm and how some animals hibernate during the winter months. Also we will emphasise the need to look after birds and other animals. The ice cold days and snow will provide great opportunities for children to ask questions and talk about the things they have seen.
Expressive Art and Design
We will learn topic related songs and we will create 'winter pictures'. The children will be using different techniques such as mixing colours, using different textures in our paints and finding out which is the best colour to represent winter.
Now that the weather is getting colder could you please ensure that your child comes to school with a jumper/cardigan, coat, hat and gloves to keep warm while they play outside?
Please can we request that your child has a pair of wellington boots, a set of spare clothes such as underwear, socks, tights and a pair of trousers/skirt in school?
Please name all school uniform and coats.
Don't forget to collect a book from the basket in our cloakroom to share with your child.
If you are able to contribute in any way, please come and let us know. Your help would be greatly appreciated.
Thank you for your support,
Mrs J. Solomon, Mrs G. Cookson and Mrs A.Brotherton