Eco-Warriors
Eco Schools Impact Report 2021-2022 featuring St Wilfrid's RC Primary School
'The earth is God's gift to us, full of beauty and wonder. And it belongs to everyone.' -Pope Francis
Who are the Eco-Warriors?
Eco-Warriors are a group of children from Year 5, who meet each month to discuss eco-friendly and environmental issues and consider ways we can help as a school. With Pope Francis's encyclical, Laudato Si in mind, they will promote the message of 'caring for our common home' and be responsible for encouraging this ethos throughout the school and beyond.
Click here to find out more about Laudato Si.
Why do we have Eco-Warriors?
To join the urgent call to tackle the ecological crisis.

To raise awareness of issues related to the environment, both locally and globally.

To ensure children have a platform to voice their opinions and know that their voices are vital in making meaningful change.

To plan and implement purposeful changes to support our local and global environment.

To encourage and promote continued action, that will have a meaningful impact on our local and global environment.
How do children become an Eco-Warrior?
Year 5 children will be responsible for running the Eco-Warrior council. All Year 5 children will be given the opportunity to join the council if they wish to. At the end of Year 4, children will be asked if they wish to become an Eco-Warrior and will meet with the Year 5 children to hand over the role each summer.
What happens in the meetings?
We will begin each year by completing an environmental review and creating an action plan for the upcoming year. Throughout the year, Eco-Warriors will hear from children throughout the school to discuss ideas about changes and improvements to our environment and community. The issues are then raised in meetings and Eco-Warriors will discuss how to move forward, presenting their ideas to the headteacher and the rest of the school.
Our Eco-Warriors this year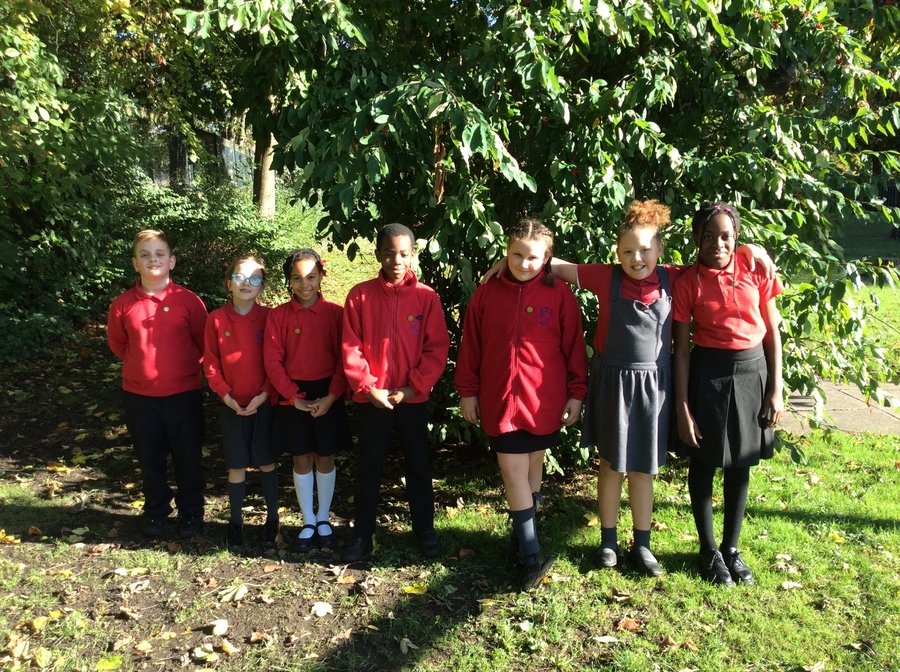 Gardening Club
The Eco-Warriors have set up a Gardening Club this year. Each week, children from across the school can volunteer to help the Eco-Warriors carry out various activities relating to their eco-projects during lunch time. This term they are focusing on litter picking and planting new flowers across the school grounds.
Recycle Week
Before passing on their role to the new team this year, our Eco-Warriors have sent a video to all the teachers and children at St Wilfrid's to promote Recycle Week. They have shared a quiz from Recycle for Greater Manchester and reminded us of which bins we should be using to make sure we are recycling correctly.
They also chose to remind everybody of our role in sharing Pope Francis' message of Caring for Our Common Home.
Our Eco Warriors regularly check our school grounds for litter